Sommerhuset ved Mossø
Vores forældres tid / Our parents' time / Die Zeit unserer Eltern
I 1989 blev husets mange tage vendt og nyt tag lagt på piller udenpå huset.Tagets hældning blev derved mere naturlig.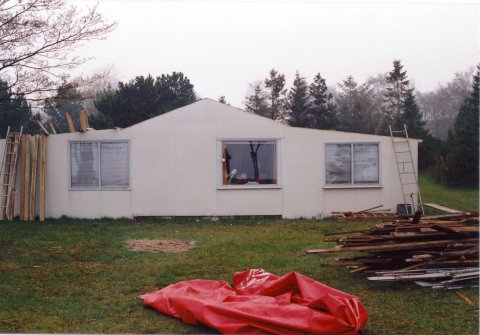 In 1989 the many Roofs were turned around and new roof was places on the outside of the house.
The slope of the roof thereby became more natural.
1989 wurden die vielen Dächer gedreht, und an der Außenseite des Hauses wurden neue Dächer angebracht.
Die Dachneigung wurde dadurch natürlicher.
Vores forældre har som vores forældre haft deres gang ved Mossø siden 1954, men efter vores bedsteforældre død i 1994 overtog vores forældre huset ved Mosse. Huset har altid været mødested for familien, og målet med ombygningen var at skabe et sted for familien at mødes og samtidig leje huset ud til gæster når huset ikke blev benyttet af familien. Alt med undtagelse af det relativt nye tag og garagen blev gennemgribende renoveret.
Our parents, like our parents, have had their time at Mossø since 1954, but after our grandparents death in 1994 our parents took over the house at Mosse. The house has always been a meeting place for the family, and the goal of the redevelopment was to create a place for the family to meet and at the same time rent the house out to guests when the house was not used by the family. Everything except the relatively new roof and the garage were thoroughly renovated.
Unsere Eltern haben wie unsere Eltern ihre Zeit in Mossø seit 1954, aber nach dem Tod unserer Großeltern im Jahr 1994 haben unsere Eltern das Haus in Mosse übernommen. Das Haus war schon immer ein Treffpunkt für die Familie, und das Ziel des Umbaus war es, einen Ort für die Familie zu schaffen, an dem sie sich treffen und gleichzeitig das Haus an Gäste vermieten konnte, wenn das Haus nicht von der Familie genutzt wurde. Alles außer dem relativ neuen Dach und der Garage wurde gründlich renoviert.
Huset blev total ombygget
Vores forældre gennemførte efter renovering selv hver lørdag rengøring af huset efter vores gæster havde boet i huset. Mne der var også tid til at slappe af, nyde en kop kaffe og have besøg.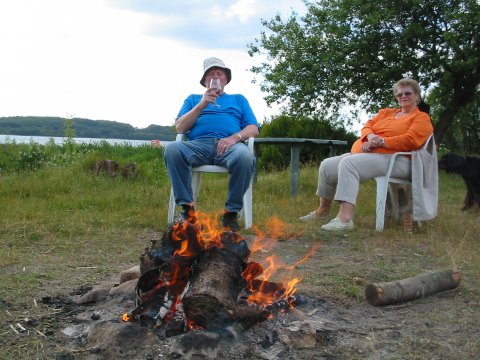 After renovation, our parents even cleaned the house every Saturday after our guests had lived in the house. But there was also time to relax, enjoy a cup of coffee and have a visit.
Nach der Renovierung haben unsere Eltern das Haus sogar jeden Samstag gereinigt, nachdem unsere Gäste im Haus gewohnt hatten. Es war aber auch Zeit, sich zu entspannen, eine Tasse Kaffee zu trinken und einen Besuch abzustatten.
Om sommeren blev mange lørdage og uger brugt til at rengøre og renovere - hvor der samtidig blev leget i haven eller vandet.
In the summer, many Saturdays and weeks were spent cleaning and renovating - at the same time playing in the garden or the water.
Im Sommer wurden viele Samstage und Wochen mit Putzen und Renovieren verbracht - und gleichzeitig im Garten oder im Wasser gespielt.
Vores far forestod det praktiske med rengøringen af huset og klaede udenomsarealerne, tit med hjælp fra børne.
Our father did the practical of cleaning the house and dressed the outside areas, often with the help of children.
Unser Vater putzte das Haus und putzte die Außenbereiche, oft mit Hilfe von Kindern.
Vores mor klarede køkkenet hvilket ofte også betød at have kaffe, kage osv. klar for de gæster og hjælpere, der kom.
Our mother managed the kitchen which often also meant having coffee, cake etc. ready for the guests and helpers who came.
Unsere Mutter leitete die Küche, was oft auch bedeutete, Kaffee, Kuchen usw. für die ankommenden Gäste und Helfer bereit zu halten.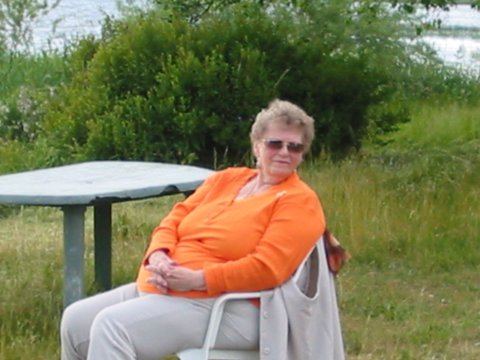 Vores forældre er på rotur på Mossø i 1958
/
Our parents are on a round trip on Mossø in 1958
/
Unsere Eltern machen eine Rundreise auf Mossø in 1958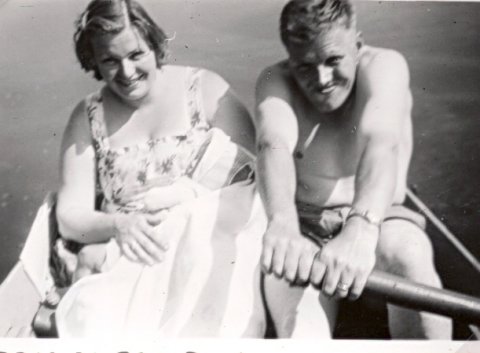 Familierne Sejer Jakobsen